MRE Meal Ready to Eat Genuine U.S. Army MRE Ready to eat Meals / Rations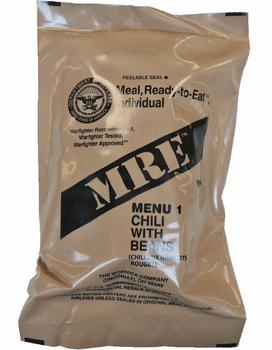 MRE Meal Ready to Eat Genuine U.S. Army MRE Ready to eat Meals / Rations
Please select all available options
New Genuine U.S. Military Issue MRE Field Rations
Meals Ready to eat (MRE'S)
Warfighter Recommended and Warfighter Tested
Menus are 2015 / 2016 packed with a Best before / inspection date of 2018
Complete unopened MRE Meals with sundries, you get a sundries accessory pack in each menu
Accessory Pack A Contains: Coffee, Creamer, Sugar. Salt, Chewing Gum, Matches, Toilet paper and Towelette,
Accessory Pack B Contains: Sugar free beverage, Salt, Chewing Gum, Toilet Tissues and Towelette
Accessory Pack C Contains: Coffee Creamer, Sugar substitute, Salt, Chewing Gum, Toilet Tissue and Towelette,



Some MRE menus also contain a candy pack - I - Toffees, II - Chocolate or peanut butter disks, III - Fruit flavor sweets or Licorice sweets
All you need to do is just add water to the flameless ration heater & place the meal packet within
And you get piping hot food in 15 Minutes
Ideal for Survival Weekends, Camping or Hiking
All MRE Menus contain a spoon, Flameless Ration Heater and a hot beverage bag
Different Menu's are listed below


Please note we do our best to list the menus correctly, but some menus may vary slightly in the way of contents due to manufacture variations
Great item for display or collection



Menu 1:

Chili with Beans, Cheddar Cheese Spread, Snack Bread, Corn Bread, Ranger Bar, Beverage Base, Spice - Red Pepper, Accessory Packet A, Spoon


Flameless Ration Heater, Hot Beverage Bag


Menu 2:

Beef Shreads,


Barbecue Sauce, Accessory Packet C, Spoon, Flameless Ration Heater, Hot Beverage Bag


Menu 3: Chicken with Noodles and Vegetables, Fudge Brownie with Chocolate Drops (Trans Fat Free), Cheddar Cheese Spread, Crackers
Nuts and Raisins Mix with Pan Coated Chocolate Disks, Beverage Powder - Carbohydrate Electrolyte, Hot Sauce - Extra Hot, Accessory Packet A
Spoon, Flameless Ration Heater, Hot Beverage Bag



Menu 4

: Pork Sausage in cream gravy, Peanut Butter, Multigrain Snack Bread, Fruits, Infused and Dried,
Jelly/Jam, Accessory Packet A, Spoon, Flameless Ration Heater, Hot Beverage Bag



Menu 5

: Chicken Chunks (White - Cooked), Apple & Cinnamon First Strike Bar (Trans Fat Free), Cheddar Cheese Spread, Tortilla (Trans Fat Free), Candy, Beverage Powder (Carbohydrate Fortified), Buffalo Style Hot Sauce, Accessory Packet, Spoon, Flameless Ration Heater, Hot Beverage Bag
Menu 6

: Beef Taco, Wet Pack Fruits, Cheese Filled Crackers, Peanut Butter, Tortillas, Jelly/Jam, Beverage Powder - Carbohydrate Electrolyte,
Spice - Seasoning Blend, Accessory Packet A, Spoon, Flameless Ration Heater, Hot Beverage Bag (may vary)



Menu 7

: Brisket Entree Gravy with Seasoned Beef Brisket slices, Cookies, Peanut Butter, Snack Bread, Jelly/Jam, Candy I, Instant Cappuccino - Irish Cream,
Butter Granules, Accessory Packet B, Spoon, Flameless Ration Heater (may vary)



Menu 8

: Meatballs in Marinara Sauce, Potatoes au Gratin, Jalapeno Cheese Spread, Tortillas, First Strike Bar, Beef Snack Strips, Beverage Base,
Accessory Packet C, Spoon, Flameless Ration Heater, Hot Beverage Bag



Menu 9

: Beef Stew, Peanut Butter, Jelly/Jam, Multigrain Snack Bread, Nuts and Raisins Mix, Filled Pretzels, Cocoa Beverage Powder, Chocolate Hazelnut,
Hot Sauce - Extra Hot, Accessory Packet B, Spoon, Flameless Ration Heater



Menu 10

:

Chili and Macaroni, Pound Cake (Trans Fat Free), Jalapeno Cheese Spread, Crackers, Candy III, Beverage Powder - Carbohydrate Electrolyte,




Spice - Red Pepper, Accessory Packet A, Spoon, Flameless Ration Heater, Hot Beverage Bag





Menu 11

:

Vegetarian Crumbles, with pasta in taco style sauce (VEGETARIAN),

Wet Pack Fruits, Cookies, Chunky Peanut Butter, Crackers, Candy I, Instant Cappuccino - French Vanilla,




Hot Sauce -Extra Hot, Accessory Packet B, Spoon, Flameless Ration Heater





Menu 12

: Penne with Vegetable Sausage Crumbles (VEGETARIAN), Toaster Pastries, Instant Pudding, Filled Pretzels, Snack Bread, Chocolate Peanut Butter
Beverage Powder - Carbohydrate Electrolyte, Hot Sauce - Extra Hot, Accessory Packet A, Spoon, Flameless Ration Heater



Menu 13

: Cheese Tortellini in Tomato Sauce (VEGETARIAN), Spiced apples, First strike bar, Peanut butter, chunky crackers, Candy II, Sugar free Beverage, Seasoning blend spice, and accessory pack C.

Menu 14

: Ratatouille Mixed vegetable and Penne (VEGETARIAN), peanut butter, crackers, carb fortified beverage, seasoning blend spice, and accessory pack C.

Menu 15

: Mexican Style Chicken Stew, Refried Beans, Cookies, Jalapeño Cheese spread, vegetable crackers, carb fortified beverage, picante sauce, and accessory packet A.

Menu 16

: Rib Shaped Barbecue Flavour Pork Patty, cheese spread, Tortillas, mexican rice, baked snack crackers, Irish cream cappuccino, seasoning blend spice, and accessory packet C. (May Vary)

Menu 17

: Pork Sausage Patty Maple Flavoured, Granola w/Milk & fruit, Chocolate Banana Muffin, Cheese Spread, Crackers, Beverage base, Accessory pack A, Spoon, Flameless Ration Heater (May Vary)

Menu 18

: Beef Ravioli in Meat Sauce, Mac and cheese, cheese spread with bacon, wheat snack bread (2), cheese filled cracker, carb fortified beverage, BBQ Sauce, and accessory pack B.

Menu 19

: Beef Patty, Jalapeno Peppers, Dried fruit, Pound cake, Peanut butter, Chocolate crackers, carb fortified beverage, steak sauce and accessory pack A. (May Vary)

Menu 20

: Spaghetti with Beef and Sauce, Peanut Butter, Multigrain Snack Bread, Fruits, Infused and Dried, Candy III, Beverage Base,
Jelly/Jam, Accessory Packet A, Spoon, Flameless Ration Heater, Hot Beverage Bag
Menu 21

: Chicken Breast Fillet, Garlic and Herb Season, Cookies, Snack, pretzels, Candy I, Dairy shake, Fat free Mayonnaise, seasoning blend spice, and accessory pack C. (May Vary)

Menu 22

: Asian Style Beef Strips, with Vegetables. Peanut Butter, chunky jelly, wheat snack bread, French toast cookie, candy I, Carb fortified Beverage, hot sauce and accessory pack A.

Menu 23

: Chicken Pesto Pasta, Cheese spread with bacon, Wheat snack bread, wet pack fruit, pudding, carb fortified beverage, red pepper spice and accessory pack A.

Menu 24

: Southwest Beef and Black Beans, Chocolate Banana Muffin, Jalapeno cheese spread, wheat snack bread, Candy II, Mocha cappuccino, and accessory pack B.