DANISH M96 HMAK Woodland Flecktarn 3 colour Camo LMG PLCE Pouch Light Machine Gun, Like New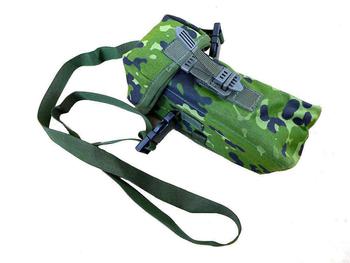 DANISH M96 HMAK Woodland Flecktarn 3 colour Camo LMG PLCE Pouch Light Machine Gun, Like New
Genuine Danish M/96 Military LMG - Light Machine Gun Pouch
Designed to go on your webbing belt this is a Quality made CQC HMAK Pouch.
M/96 woodland 3 colour Flecktarn - Genuine not reproduction
Label reads, Bandtaske til MLG, M/96 CQC 1999 HMAK
Pouch is in like Brand New - Never been issued or used condition
2 poppers and velcro cover the belts tabs - slides through your PLCE Belt.
French Tab quick release fastener on the front.
Double lid system, so pull back top lid to reveal opening to remove ammo quickly
Great design, Can be carried over shoulder with strap included with quick release clips either side.
Pouch measures 8 inches tall, 3.5 inches across the front and 4 inches deep .
Brand New Genuine Danish Military Issue Kit - hard to find.