Polish MRE Ration Pack Individual Food Ration SR Polish Military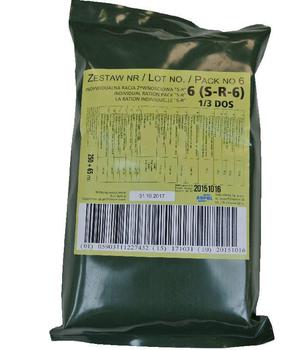 Polish MRE Ration Pack Individual Food Ration SR Polish Military
Please select all available options
Polish Military Ration - Type "SR"
Similar in Size to the US Army MRE
Comes in sturdy olive green plastic bag
Calorific Value is Approx 1100 kcal
Each Pack contains a Hot meal & Flameless Ration heater, Snacks, Meat spread/pate & Crackers & other Sundries
Flameless Ration heater requires 65ml of water to activate (not supplied!)
A lot of food for 1 meal!
Manufactured in Oct 2015
Best before date is 31/10/2017 so still in date!
Menu 4 contains Hungarian Goulash 300g, Sprats lightly smoked in oil 125g, 2 packs fortified hard tack biscuits/crackers 45g each, Honey, Lime flavoured instant tea drink with green tea extract, Cranberry Cereal & Fruit Bar, chewing gum, coffee sweet, citrus flavour vitamin c sweet, salt, pepper, moist towelette, napkin, toilet paper, zip lock plastic bag, drinking straw, Plastic spoon & Flameless ration heater
Menu 5 contains Meat & Kasha (Barley Groats) 300g, Minced Pork 100g, 2 packs fortified hard tack biscuits/crackers 45g each, Forest Fruit flavoured instant tea drink, Freeze dried Fruit Mix, Apricot Cereal & Fruit Bar, chewing gum, coffee sweet, citrus flavour vitamin c sweet, salt, pepper, moist towelette, napkin, toilet paper, zip lock plastic bag, drinking straw, Plastic spoon & Flameless ration heater
Menu 6 contains Cabbage Stew with Sausage (Bigos z kielbasa) 300g, Minced Chicken with Pork 100g, 2 packs fortified hard tack biscuits/crackers 45g each, Strawberry Jam, Lemon flavoured instant tea drink, Fig Cereal & Fruit Bar, chewing gum, coffee sweet, citrus flavour vitamin c sweet, salt, pepper, moist towelette, napkin, toilet paper, plastic bag, drinking straw, Plastic spoon & Flameless ration heater