Ration Pack Dutch Military Issue 24 Hour Combat Rations 2016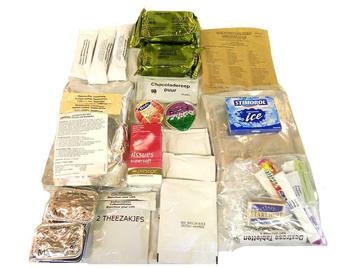 Ration Pack Dutch Military Issue 24 Hour Combat Rations 2016
Here we have a Very Nice Dutch Military Issue Ration Pack
This is the Regular 24 Hour Combat Rations 2016
Ration pack is bagged and ready to go
The 2 Packet main meals are Chicken Hot Pot and Goulash with potatoes
Made for the Dutch Military, this 24 hour Ration pack is NATO Approved
You get inside all the items shown in the photo, Biscuits, meat spread, cheese spread, etc
Tuna spread, Jelly, 3 Packs of Biscuit Crackers.
The Beverages come in packets and can be made up with hot or cold water,
There is enough powder for 2 cups of chocolate, 1 cup of energy drink, 2 cups of tea, 2 cups of beef stock,
Four packets of sugar and 2 packets of whitener.
There are some Mentos sweets and gum, boiled sweets, nuts and raisin mix etc. all good snacks.
The main course is in the packets, contains 400g of food
packets can be heated in a mess tin or eaten cold if in the field and have no means of heating.
Total weight of the bag and the 2 packets is 1700g approx Excellent Ration pack for collector or display,
Best before is 2016 - Sold as collectors item !